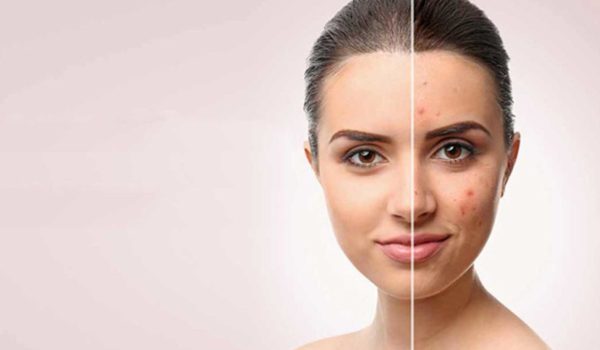 What Is An Acne Scar Removal Treatment?
Acne is a skin condition that is quite prevalent among adolescents and young adults. It develops due to an accumulation of dead cells, debris, and oil in the skin's pores. Not addressing it can lead to inflammation, hyperpigmentation or spots, and even scarring on the skin. Therapy for acne scar correction will help eliminate the markings left behind by those annoying bumps for good!
Role of Fractional CO2 Laser
Laser therapy has changed how many skin conditions are treated because it can target the specific cause while doing minor damage to the surrounding tissue. Acne scars have been treated with lasers that remove skin and those that don't. People used to think that the ablative carbon dioxide (CO2) laser was the best way to treat acne scars because it completely resurfaced the skin and made it look younger.
Fractional CO2 laser skin resurfacing is a well-known way to eliminate acne scars worldwide. Only a tiny portion of the skin is treated, as suggested by the procedure's name. Compared to fully ablative laser treatment, this method helps the wound heal faster and has fewer side effects.
Because it causes controlled damage to the dermis, fractional laser treatment is excellent for atrophic boxcar scars and rolling scars that don't stick together. This causes the skin to make more collagen and remodel the scar tissue.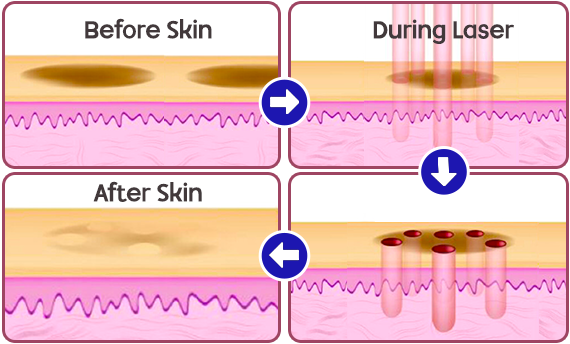 Is Laser Acne Scar Treatment Effective?
Yes! We know that acne is a complicated condition to treat. So is the damage it does to the skin. If you've beaten your acne, you might be looking forward to finding a way to get rid of the scars it left behind. After all, you probably didn't picture spots when you thought your skin was clear and beautiful after acne. You may have tried other ways to get rid of your acne.
When home remedies and topical treatments don't work, you can finally use laser acne scar removal to get the desired results. Because it eliminates the damaged tissue and helps your body to replace it with clear, young skin cells, it is one of the most effective treatments for acne scars.
Different Types Of Scars
Here are the different types of acne scars our expert dermatologists specialize in treating,
Atrophic scars (acne and chicken pox)

Post-surgery scars

Traumatic scars

Keloid scars

Normal fine-line scars
Who Is A Suitable Candidate For Scar Removal?
Anyone older than 18 years old can choose advanced acne scar therapy. On the other hand, it is not recommended for nursing mothers, women who are pregnant, or people who are afflicted with chronic health problems.
How Many Sessions are Required?
The number of sessions depends on your skin type, the cause of the problem, the type of scar, how wrong the problem is, and the type of treatment you are getting. For the best results, doctors may recommend a single procedure or a mix of techniques. As early as the second or third treatment session, the texture of your skin will start to get better, and the scars will begin to fade.
Post care:
Keep your skin clean and moisturized

Apply Sunscreen (After 24 hours of treatment)

Try to Avoid make-up

Avoid picking at the skin after treatment
Benefits of Laser Acne Scar Treatment:
Helps In Boosting Self-Confidence
Anyone with obvious skin conditions or problems like acne scars knows they can significantly affect self-esteem and confidence. Once your laser treatment for acne scars is done, you can leave feeling good about yourself.
Most people will opt for solutions that enable them to avoid going under the knife no matter what issue they try to address. When you have acne scar laser treatment, you can look forward to a non-invasive method that does not involve invasive surgery. Skin resurfacing is carried out through laser technology, which is why it is preferred.
Remove Bacteria Near The Pores
Bacteria on the skin is one of the main reasons why acne happens. If the bacteria is left on the skin and near the pores, it could grow and cause acne to appear. A scar revision procedure makes the scar look better, and the laser can also eliminate the bacteria. Many clients need to learn about this perk, but keeping it in mind is essential.
Acne loves oily skin. The bigger your oil glands are, the more oil they make, which leads to more acne. With laser treatments for acne scars, you can shrink the size of your oil glands to make them make less oil. This is one more reason why laser skin resurfacing for acne scars is a good idea since it helps stop acne from returning and removes old spots.
The results of acne scar laser therapy are typically astounding, given that the technique utilizes lasers instead of invasive treatments.
The best Laser Acne Scar Treatment specialist, Dr Prakash Sajja is here to solve all your queries.
Do call 9440830455 or Fill out our Appointment form to get in touch!
♥ Follow our Social Media pages for recent updates. Facebook | Instagram