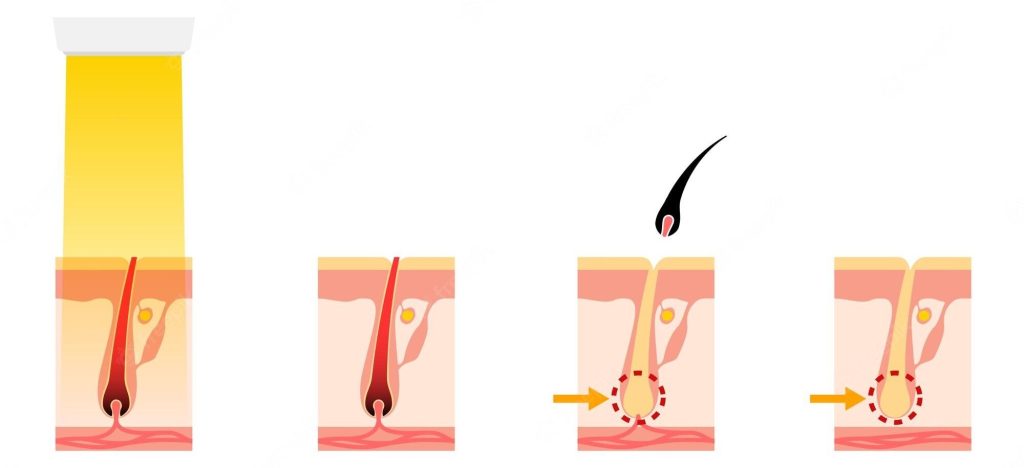 Laser hair removal
Are you annoyed by unwanted hair in your body? Are you exhausted with endless salon hair removal methods like waxing, shaving, trimming, plucking? Then free yourself from the struggle of traditional hair removal methods by opting advanced laser hair removal treatments. Get ready to feel the beautiful 'you'.
Body hair removal is very essential for both men and women to maintain healthy hygienic habits. Unwanted hair removal avoids awkward situation and makes you feel comfortable in every occasion of your life. Removing facial hair like upper lip, forehead, chin, makes you skin look charming and glowing.
By using traditional hair removal methods like trimming, waxing, plucking, shaving, more time is consumed as the hair regrows again after a span of time depending on the method used to remove the hair. There are so many other drawbacks in traditional methods. Few are listed below
Waxing
Waxing is the method where the hair is removed forcefully from the skin. Because of the stress given to the skin, it is common in many people to develop bumps and inflammation after waxing. These bumps are due to inflammation which mostly leads to ingrown hair.
Ingrown hair is a type of hair folliculitis that is formed when the hair grows towards the skin instead of growing out from the surface of the skin. This gives a rough and dull look to the skin.
Hair removal cream
Normally hair removal creams are not advised on the sensitive places of our body. It may result in skin irritation. Hair removal cream can get you rid of unwanted hair only for 3-5 days. After that hair growth can be seen on the treated area.
Shaving
Shaving unwanted hair may result in razor bumps in some people. It may also develop skin irritation and inflammation if the shaving is carried out by a dull or clogged blade
Among all the above methods, none of the methods stops hair growth permanently. There is only possible way to get rid of unwanted hair permanently is by laser hair removal treatment.
Laser hair removal treatment
Laser hair removal is the most common cosmetic procedure to remove unwanted hair. This procedure can be used to remove hair in any part of the body.
Laser hair removal uses a concentrated beam of light(laser) to remove unwanted hair. The laser machine emits light on the treated area and is absorbed by the pigment called melanin that is present in the hair which is responsible for the growth of the hair. By repetition of this procedure multiple times, hair follicles are destroyed and thus prevents hair growth.
Reduction of hair growth gradually can be seen right from the first session of the treatment. Even the hair that is grown after undergoing laser treatment is comparatively lighter and thinner. Laser works more effectively for people who have light skin tones and dark hair colour. However, it can be successfully used on any type of skin tone and all shades of hair colour like brown, and black.
Benefits of laser hair removal over traditional salon methods
Accuracy
A laser can selectively treat hair follicles leaving the skin surrounding the hair safely. Whereas in salon methods like waxing, trimming, and plucking, the skin will undergo some pressure and thus results in bumps.
Less time-consuming in the long run
Normally 4-8 sessions are needed to remove unwanted hair for laser hair removal treatment. The time taken for this procedure is 20 to 30 minutes depending on the area to be treated. After completing the full course of hair removal, no longer need to spend time on hair removal. But, in salon methods, there is no way to stop hair growth even after years of removing unwanted hair.
Cost-effective
Laser hair removal is a cost-effective treatment when you see the bigger picture. After taking up laser hair removal treatment, there is no need to spend money on endless waxing and for the materials needed to remove unwanted hair.
Painless
It is a painless procedure unless salon procedure. The patient may feel some heat and tickling sensation during the procedure.
Inflammation-free
In laser hair removal treatment, the risk of skin damage is very minimal. So there is no inflammation in the skin whereas, in salon methods, inflammation is very common.
Are you looking for Laser hair removal treatment in Tirupati?
Dr Sajja's Skin and Laser Clinic provides the best and most advanced Laser hair removal treatment in an effective manner.
For all your queries, Feel free to consult with us at 9440830455 or Book your Appointment Now
♥ Follow our Social Media pages for recent updates. Facebook | Instagram