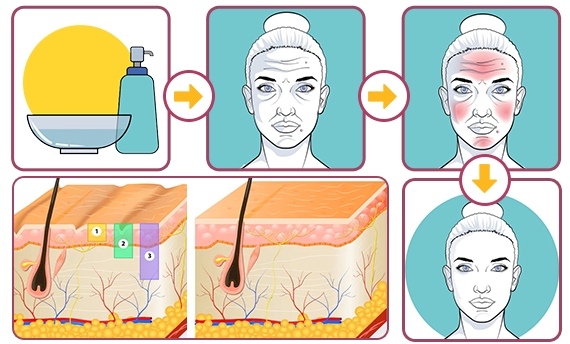 When you hear about the treatment named with the word "Chemical", it may sound like something that is so harsh to the skin. But, have you ever believed that this is a super-fast technique to attain instant glow for the skin?
You will be surprised if you come to know all the benefits of this treatment which provides promising results to restore youthful-looking skin.
What is a chemical peel?
It is an in-office procedure that is done by the application of a thin layer of chemical solutions on the skin and thus removes the superficial layer of the skin.
The chemicals that are used in the chemical peeling will make the top layer of the skin peel off and reveals the youthful skin underneath. It can also make the skin even with a youthful appearance.
Chemical peels are mostly done for the face, neck, and hands. It can also be done on elbows and other parts of the body if there are dark spots.
Different types of chemical peels are available according to the patient's concern. Based on the type and condition of the skin, the physician recommends the chemicals to be used for the chemical peeling procedure.
It treats the skin from the superficial layer to the deep layer of the skin according to the chemicals used. This is combined with cosmetic procedures like microdermabrasion which enhances the result to the next level.
Commonly used chemicals in chemical peeling
The most commonly used chemicals in this procedure are,
Salicylic acid
Glycolic acid
Lactic acid
Trichloroacetic acid
Process of chemical peel treatment
Initially, the patient skin is thoroughly cleaned with a cleansing solution. Then, a thin layer of chemical layer is applied all over the face based on the patient's requirement.
These chemicals penetrate deep into the skin and initiate a rejuvenation process and give an even skin tone by reducing pigmentation.
Benefits of chemical peeling
It is a simple procedure and offers many benefits right after the procedure. Few of them are
Reduces fine lines & wrinkles
Gives even skin tone
Improves texture and elasticity
Speeds up the rejuvenation process
Removes suntan and hides acne scar
Post-care of chemical peeling
Avoid direct sun exposure
Apply sunscreen and moisturize the skin regularly
Do not over-exfoliate
Wash the face frequently
Avoid spa and salon
Side-effects of chemical peeling
Only trained physicians/therapists should perform The chemical peel procedure. Otherwise, it can lead to severe side effects.
Some of the most common side effects are
Redness
Dryness
Burning
Stinging sensation
Are you thinking of getting a Chemical peel? Have any queries about the treatment?
The best Dermatologist in Tirupati, Dr Prakash Sajja is here to solve all your queries.
Do call 9440830455 or Fill out our Appointment form to get in touch!
♥ Follow our Social Media pages for recent updates. Facebook | Instagram