Best Dermatologist in Tirupati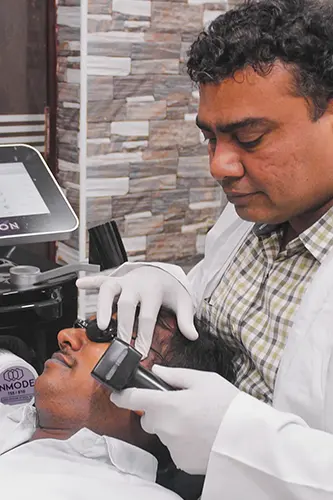 He is the best-renowned skin doctor in Tirupati, as well as the best hair transplant surgeon and laser expert. He is a specialist in general dermatology of skin, hair, and nails, like psoriasis, lichen planus, skin infections, cosmetic dermatology (lasers), non-surgical facelifts, radiofrequency (EXILIS), and revision surgeries of acne scars.
Top Skin Specialist in Tirupati
Dr. Prakash Sajja specializes in cosmetic dermatology, offering advanced treatments to enhance your skin's appearance. Their state-of-the-art clinic is equipped with the latest technology for skin rejuvenation.
Dr. Sajja's Clinic is equipped with cutting-edge technology and state-of-the-art facilities to ensure that patients obtain the highest quality of care and the latest advancements in dermatology.
Dr. Prakash Sajja, the leading dermatologist at the clinic, boasts a wealth of experience and expertise in the field. He is known for delivering comprehensive and effective dermatological solutions.

Tirupati, Andhra Pradesh
18-1-514, Bhavani Nagar, Behind Reliance trends, V.V Mahal road,